As networking technology becomes more advanced, industrial networks are now expected to meet new standards of operational capability and consistency. Moxa's diverse toolset of industrial devices and solutions empowers industrial networks to do more, reliably.
Featured Topics:
Expand Your Edge Applications With Low-power Cellular IIoT Gateways. Find out why Moxa's UC series of Arm-based computers with their wide variety of cellular connectivity options, compact size for cabinet installation and rugged design are ideal for your remote applications. For more information please click here.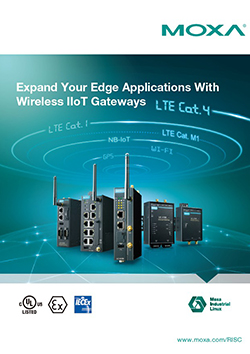 Customize Your Onboard CCTV Solutions.  Enjoy the benefits of having a single-source vendor that covers all your onboard CCTV needs, ranging from diverse IP cameras and versatile computers to high-speed  wired and wireless networking solutions. For more information please click here.
Resource Links